ALTINORDU FACILITIES
YEŞİLYURT / İZMİR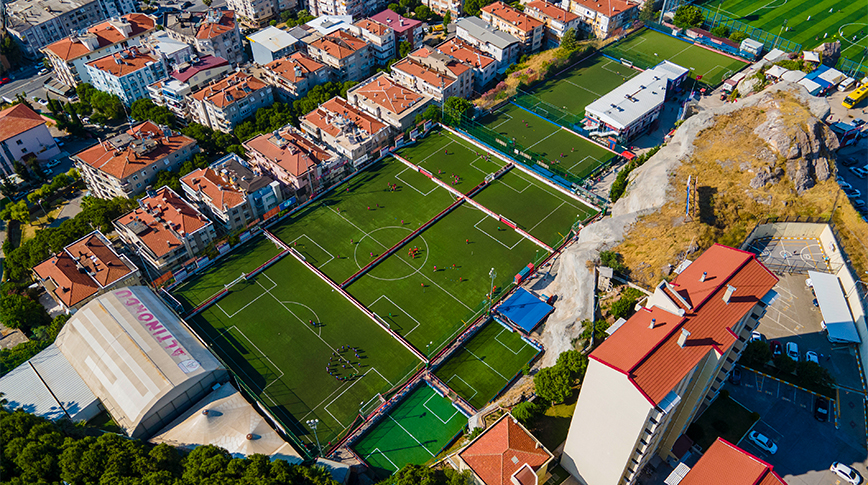 Altinordu skyscraper's foundation, "Fundamental Sports and Football Education" starts at Altinordu from the age of 5 and continues until the age of 11.
İzmir, with a population of 5 million, being the third largest city in Turkey, has our modern facilities located in the central district of
Yeşilyurt
. Our
Central Football School
with over 1,000 children participating in sports is located here. Among these children, naturally talented ones are selected to form our U6, U7, U8, U9, U10, and U11
Elite
teams.
Sait Altınordu Facilities are vibrant on Saturdays and Sundays during the winter season when school is in session, and on Mondays, Tuesdays, Wednesdays, Thursdays, and Fridays during school vacation in the summer season.
Within the facility, various species of ducks, peacocks, pheasants, chickens, and swans reside to instill a love for animals in our children.
We compare Altinordu's
"real"
professional player development program to a skyscraper. Sait Altınordu Facilities form the foundation of this Altinordu skyscraper. Starting from the age of 5, our children who wear the Altinordu jersey at Sait Altınordu Facilities turn football into a passionate pursuit. In addition to on-field training in qualities such as speed, endurance, strength, coordination, agility—essential values of football—training is also provided in personal development areas such as cooperation, sharing, and team consciousness. Football is learned on the field and improved through repetition. We wholeheartedly believe that if we provide equal opportunities for our children, they will produce world stars. There is no reason for them not to become like their older brothers
Cengiz Ünder
, currently playing for
Olympique Marseille
, and
Çağlar Söyüncü
, playing for
Leicester City
. This equal opportunity relies on two indispensable elements: modern football facilities and dedicated coaches who are open to development, hardworking, and have a love for children.
To ensure that our children play on fields appropriate for their age, we have a total of 11 fields with various dimensions in these facilities: 13x20, 20x30, 25x40, 30x40, and 30x50 meters. All of them are covered with top-quality synthetic turf carpets from the Italian brand
Limonta Sport
.
Due to our concern for the health of our children, natural granules derived from cocoa tree bark are used within the synthetic turf carpets. In addition to our 11 small-sized fields, we also have a 20x30 Futsal Hall, a semi-indoor Gymnastics Area, and 2
"Ball Technique Improvement Equipment"
. Adjacent to a comprehensive projection system, there is a 65-seat
"Visual Education Room"
where our children watch football training videos and receive personal development training. It is accompanied by a
"Cafeteria"
and a
"Dormitory"
.
In the past, our schools used to have "Scouting" branches. Our scout children would venture outside the city and roam the fields accompanied by their teachers. They would learn to make their own decisions, establish friendships, and develop communication and dining skills. Inspired by this idea, we have built a
"Dormitory"
for 20 people at Sait Altınordu Facilities. Children playing in our elite teams, aged 9, 10, and 11, stay at the facility for one night each weekend. They learn to take care of themselves at a young age. They all learn to brush their teeth, say good morning, hello, how are you, eat together, and adhere to the rules of communal living.
At Sait Altınordu Facilities, parents can observe their children's football school training, but they are not allowed to observe the training sessions of our elite teams. Additionally, due to the ongoing pandemic measures, parents are not permitted to attend the training sessions to protect the health of our athletes and their families. Parents can spend their time at the
"Parent Scenic Cafe"
within the facility, which offers a view of the Gulf of Izmir.
At Sait Altınordu Facilities, there is a 2-story
"AO Store"
where all Altinordu sports apparel is sold. Our AO Store is constructed as a sturdy steel structure, taking into account that Izmir is located in an earthquake-prone zone. It has been built to withstand possible earthquakes and can serve as a "shelter".
Author:
Seyit Mehmet Özkan
Altinordu Emblem Seventh Version
---